Join our email list to receive updates
Click here to join our email distribution list.
Special Topics Course Syllabi
Check out our recommended special topics course syllabi, which can also be used as a list of items for teams to learn if there isn't a course available.
Diversity, Equity, Inclusion, and Accessibility (DEIA) support
Team Proposal Solicitation
Solicitation, last updated 8/9/22 can be found at this link.
Note that on 7/14/2022 we updated the NEBP email address. It is nebp [at] sympa.montana.edu. This is reflected in the currently posted solicitation and template.
Proposal Preparation Webinar
NEBP held a proposal preparation webinar on Wednesday, April 27that 3pm EDT. At the webinar gave an overview of the solicitation and described the required proposal components. Participants also asked questions. Webinar recording link: NEBP Proposal Webinar recording
General Informational Webinar
NEBP held an informational webinar on Thursday, March 10th, 2022. The webinar described the overall timeline and gave details on next steps, including when the call for team proposals will be released and when proposals are due. Webinar recording
Frequently Asked Questions (FAQ)
Have a question? Check out these FAQ.
Proposal Preparation Office Hours
We hold office hours for interested people to drop in and ask questions about the project and/or proposal preparation. Current office hours are listed below.
General questions (join Angela at https://montana.webex.com/meet/m23x137):
Atmospheric Science:

There are no proposal-preparation office hours remaining, though more technical office hours will be available this winter.

Engineering (join Randy at https://montana.webex.com/meet/c89r881):

There are no proposal-preparation office hours remaining, though more technical office hours will be available this winter.
NEBP Logo Design Student Contest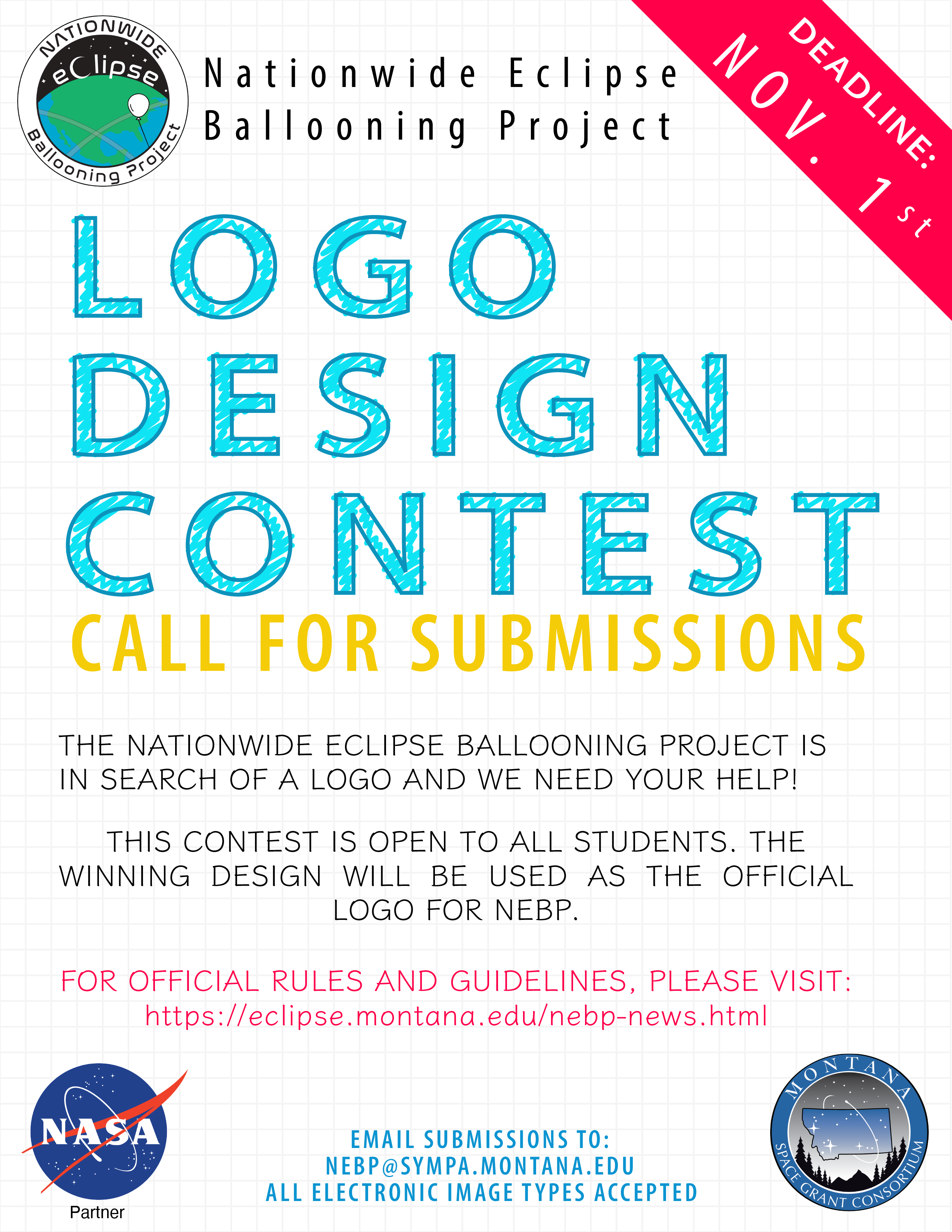 The Nationwide Eclipse Ballooning Project is in search of a new logo. To better capture the attention of both project participants and the public, NEBP announces a competition to design a new logo. The logo may be used on the NEBP website, social media sites, posters, team uniforms, or anywhere else NEBP chooses. Please see the official requirements and rules of the competition below. By entering, participants agree to adhere to all the competition's rules. Violating any rule or not following the guidelines may eliminate submissions from eligibility. NEBP has the right to disqualify any entrant at any time at its sole discretion.
Eligibility:

The logo design competition is open to any student at an educational institution in the U.S. and its territories.
Contestants are permitted to work in groups.
Logo submissions must be received by 11:59 p.m. (MST) on 1 November 2022 to be eligible.

Guidelines:

The contest opened on 15 August 2022 and closes at 11:59 pm (MST) on 1 November 2022. Late submissions will not be considered. The NEBP leadership team will select contest finalists on 3 November 2022. The NEBP team will vote and a winner will be selected and notified in mid-November, 2022.
All entries must be submitted electronically to the NEBP project email address. Submissions must include the full name(s) of the person(s) who designed the logo, email address, postal address, and telephone number.
One or more submissions per person is allowed. Each submission must be sent in a separate email.
There is no fee to enter a submission to the competition.

Design Parameters:

The logo should incorporate the project name (abbreviated or spelled out).
The logo must be appropriate for a professional business setting.
Entries can be submitted as any type of electronic image. For reproduction purposes, the winning entry must later be resubmitted in scalable vector graphic (.eps) or Adobe Illustrator (.ai) format. Color must be CMYK though the logo may also be produced in black and white. Contestants are advised to avoid gradients, complex shapes, and small or otherwise difficult-to-read fonts. The logo must be easy to use, handle, resize, and manipulate for all reproduction purposes. It should be visually appealing on both small (1 in x 1 in) and large scales.

Intellectual Property:

Entrants affirm their submissions are their own original work, have not been copied from others or from previous designs, including their own, and do not violate the intellectual property rights of any other person or entity.
The winning submission becomes the sole property of NEBP and may be used for any NEBP purposes, including but not limited to display on websites, posters, documentation, clothing, and other materials.
NEBP shall have the right to adapt, edit, modify, or otherwise use the winning submission in part or in its entirety in whatever manner it deems appropriate.

Determination of Winner and Prize:

The winning entry will be selected by a panel comprised of NEBP leadership members. Their decision will be final and no further correspondence shall be entered into.
Entries will be judged on their visual appeal, adherence to the concept prompting the contest, quality of design, and ease of reproduction for the purposes stated above.
The winner will be notified via email and announced on the NEBP website and NEBP Facebook page.