Lesson 1: Introduction to the Nationwide Eclipse Ballooning Project (NEBP)
Overview of the content
Welcome to the Nationwide Eclipse Ballooning Project (NEBP)! This lesson gives an overview of the project and should answer your basic questions about the project and our goals.
Before starting to learn this content, or soon after starting, we highly recommend getting the "Responsible Conduct of Research" student certification that is available on your campus. These typically take about two hours and are quite informative.
Learning objectives
Understand NEBP's focus and goals
Know how NEBP is organized and who the leaders are
Know about past NEBP campaigns
Be aware of the basic project timeline
Be aware of the project evaluation goals
Know where to find more information and who to contact if you can't find an answer
Welcome video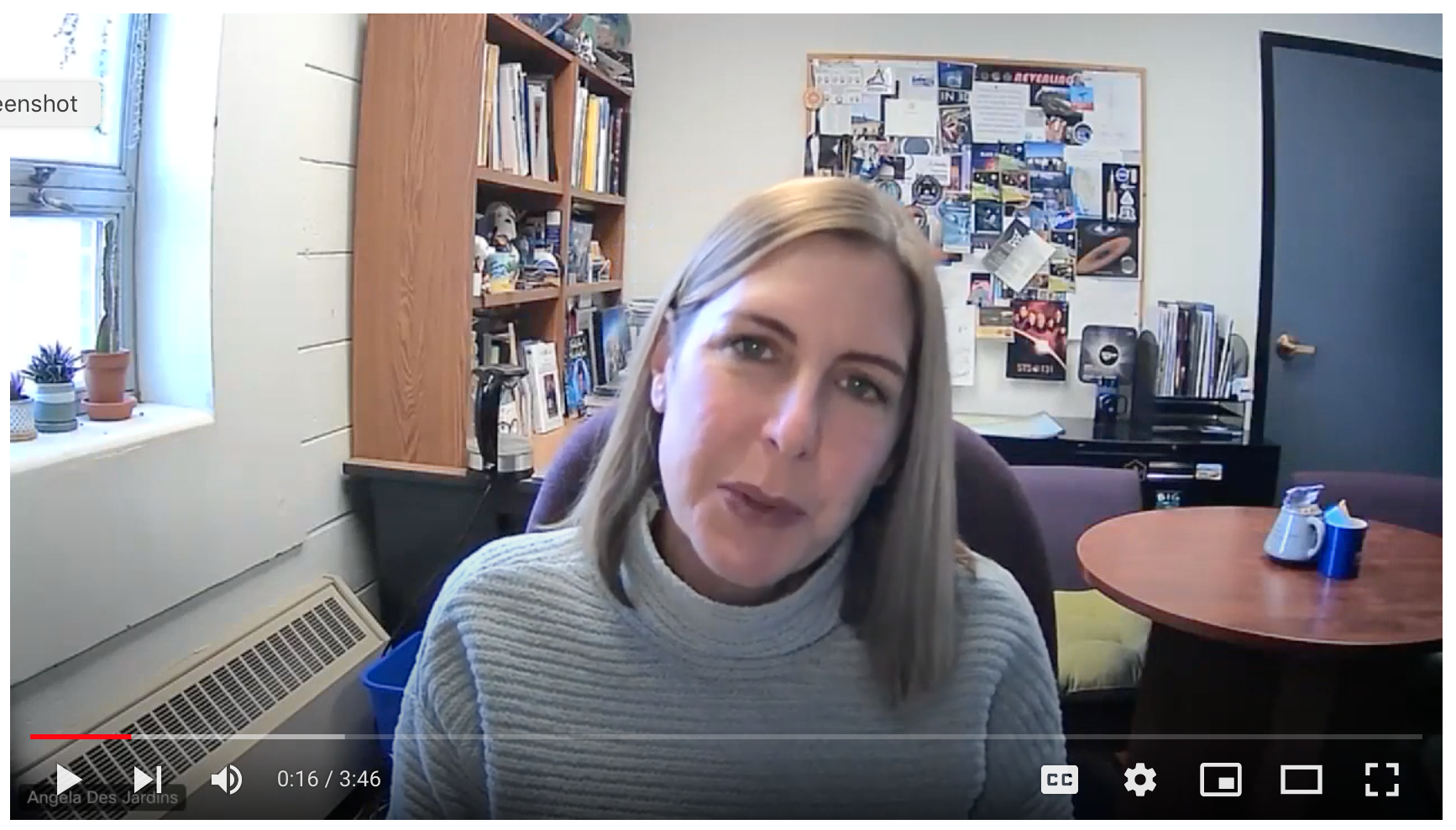 from project director Dr. Angela Des Jardins, Montana Space Grant Consortium [YouTube video, 3:47, closed captioned, transcript available]
NEBP Overview
Learner Experience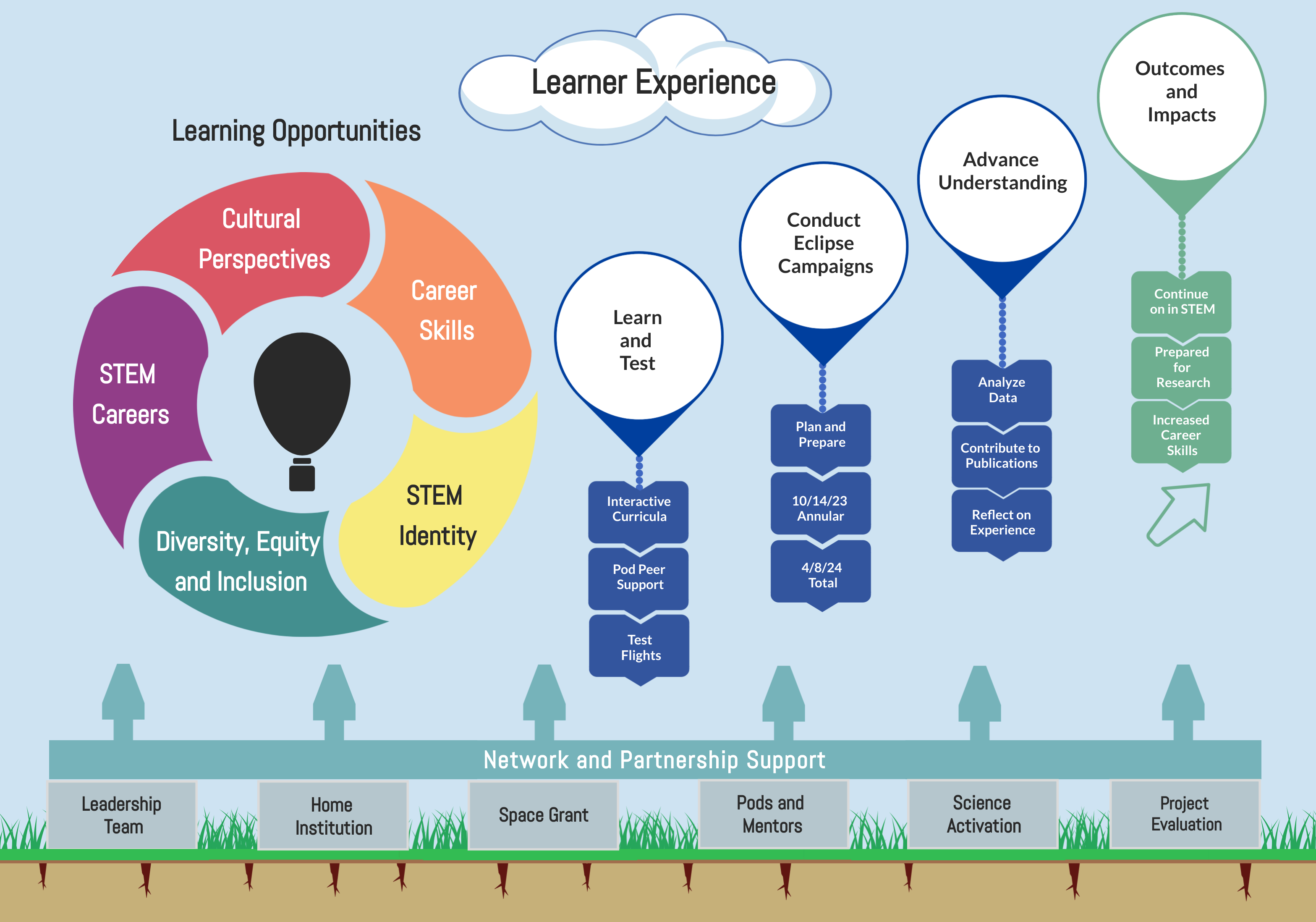 Support
NEBP is supported by a joint NASA Science Activation and NASA Space Grant award. The funding pays for the equipment and supplies for all teams, for some support of the leaders, and some travel for all teams.
Goals and objectives
The focusof NEBP is to broaden participation of STEM learners by immersing teams from a wide range of higher education institutions in an innovative NASA-mission-like adventure in data acquisition and analysis through scientific ballooning during the 10/14/2023 annular and 4/8/2024 total solar eclipses.
The goals of NEBP are:
Goal 1: Enable inclusive STEM education for participating students

Goal 2: Advance learners' understanding of the process of science

Goal 3: Create, enhance, and sustain networks and partnerships
More detailed objectives are on the Goals and Objectives page.
Leaders
Structure
NEBP includes development, training, and follow-through for two primary tracks – 1) atmospheric science and 2) engineering. Participants will work with subject matter experts (SMEs) to develop necessary applicable science and technology knowledge, test designed and built systems, fly eclipse campaigns, analyze data, and publish results. The unique combination of data from the two activity tracks will inform investigation of important scientific and engineering questions, as outlined below.
Ballooning Types. For the purposes of this project, typical academic ballooning types are generalized into two categories: 1) radiosondes and 2) balloons carrying payloads engineered by students, or "engineering platforms." Both are described in more detail in the following two sections.
Learn more about the Atmospheric Science track.
Learn more about the Engineering track.
Pods
Teams are further divided into regional Pods of no more than eight teams. The Pod structure will facilitate full support of each team and will create close-knit communities of teams who work together.
Past NEBP campaigns
Basic timeline
We encourage you to think of your participation in three phases: Preparation, hands-on Practice, and Campaigns.
During preparation – from now until May – you will gain the background knowledge to be successful in carrying out the project. We need each participant to complete at least 40 hours of background learning.
The next phase – hands-on practice – is so, so important. Each team member needs to do at least 80 hours of hands-on practice before the eclipses. Ideally, we'd like each team to practice until they can't get it wrong, but we recognize that a large amount of practice isn't possible for all teams.
Finally, it's show time! Having two eclipses just six months apart is a wonderful opportunity. The annular eclipse is October 14th, 2023 and the total eclipse is April 8th, 2024. All teams must participate in both eclipses.
More detailed information is on the Timeline page.
NEBP leadership and team responsibilities
Read the Responsibilites webpage.
Diversity, Equity, Inclusion and Accessibility (DEIA)
NEBP prioritizes efforts that create and support diverse environments and opportunities for the people who make up our community. We create an environment that welcomes, respects and nurtures all students, staff and faculty. We cultivate this inclusive environment by respecting and celebrating the diverse dimensions of people's identities, particularly as those identities intersect in complex ways. We will continuously promote a culture of intellectual and personal growth for all, attuned to the importance of differences in age, race, ethnicity, national origin, socioeconomic status, sex, gender expression, gender identity, sexual orientation, ability status, religion and spirituality.
In addition, NEBP strives to make our programs accessible to all. We work, via trainings, conversations, and other learning to stay aware of modern accessibility needs and the resulting accommodations. If you or someone you know needs access in a way we are not aware, please contact us.
See resources on the NEBP DEIA page. An introduction to DEIA is given in Lesson 2.
Career-building skills
The NEBP project offers many ways to grow beyond learning the technical skills of ballooning. These are skills that will be useful in your future studies, career and other situations. This video gives an overview of the career-building skills offered by NEBP.
You should also check out our special NEBP Careers page!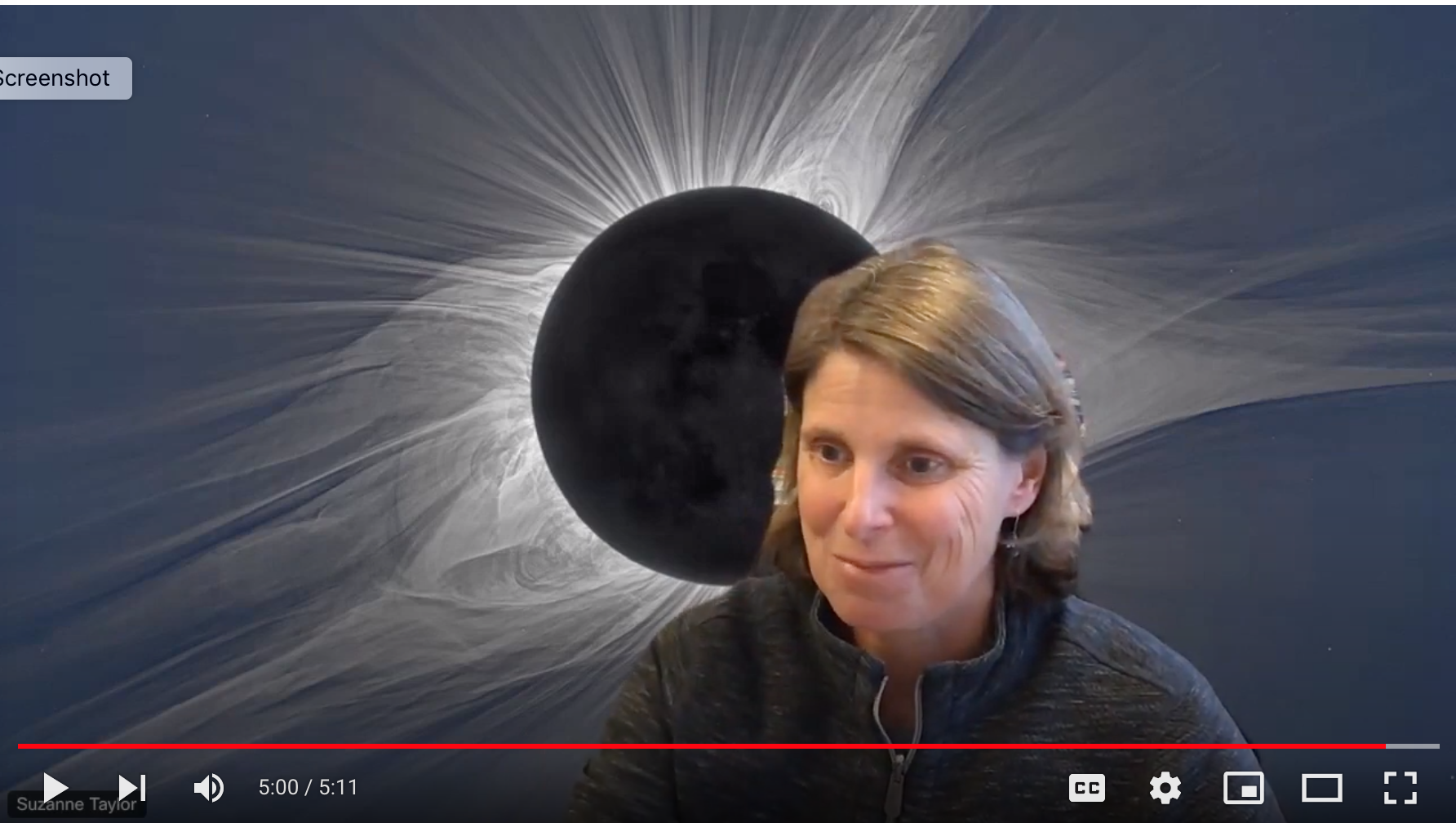 NEBP Career-building skills - by Suzi Taylor, Montana State University [YouTube, closed captioned, 5:14]
Teamwork
Ballooning is a team activity. As you learn and practice the technical skills of ballooning, you will also simultaneously grow your expertise in teamwork. Whether you are an experienced team leader or brand new, always be on the lookout for opportunities to support your teammates, to be a better teammate, and to think about how the skills you learn in NEBP may apply to other team situations you may find yourself in now or in the future.
Some of the topics covered include:
various roles of team members and how to ensure everyone is included

common pitfalls that can lead to poor success.

ways to build team unity.

how to deal with difficult situations and personalities.

why diverse teams lead to more creative solutions.
Communication - within the project
Teams will receive most of the NEBP communications from their regional Pod Lead. For information needed by all teams, communication will sometimes be sent via email by Dr. Angela Des Jardins, the NEBP PI. Please contact Angela if someone needs to be added to your team's contact list (intended to be mentors and perhaps one or two student leads).
NEPB is in the process of setting up a forum for non-email communication so that teams can find detailed information and help one another.
You will also find many—perhaps almost daily—opportunities to grow your communication skills as part of your NEBP team.
Communication - to people outside the project
Scientific ballooning is an exciting topic for people outside the project, because it is not hard to grasp the overall concept of launching a balloon and then gathering and studying the data it collects about the Earth and our atmosphere. With a little help from you and perhaps a photo or video, anybody in your circle of friends, family, co-workers, classmates or the public can have a general picture in their mind of what the project might be like.
However, when you want to explain some of the more intricate details that you will learn -- such as gravity waves, or radiosondes, you may find it's a little more difficult. Or, people might understand what you are doing, but they may not understand why. They might wonder why NASA—with its rockets and probes and space telescopes—would support a ballooning project here on Earth. They may not grasp why the time and energy you invest in this project can be of such benefit to you—both now and in the future.
Throughout this course and embedded within your hands-on experiences, you will find tips and ideas for communicating about NEBP to various audiences. At the end of the project, you will learn how to communicate with your peers in STEM or other academic fields through venues like conference posters, public presentations, technical reports and academic papers.
Science communication is a practice and a skill that will serve you well throughout your life! When we strive to include all populations in engaging with science, everyone in society benefits.
Evaluation
NEBP evaluation is conducted by Dr. Beth Covitt and Nicollette Frank, who are University of Montana employees.
The NEBP evaluation questions are:
(Formative) To what extent and how is the project facilitating acheivement of goals, outcomes, and impacts as it is being implemented?

​

(Summative) To what extent and how were the goals, outcomes,

and impacts of the project achieved through project tasks and activites?

​

(Summative) What were key challenges and lessons learned

with respect to designing and implementing a project to achieve

(and sustain efforts around) these goals?
Evaluation Data collection:
Team mentor and team participant surveys - three per person - one at the beginning of participation, one after the first eclipse, and one after the second eclipse.

Short optional feedback surveys after events/activities.

Examples of participants' products like reports, presentations, and career statements.

Team reports, media, and publications

Mentor meetings and interviews with samples of individuals
NEBP Logic Model/Theory of Change: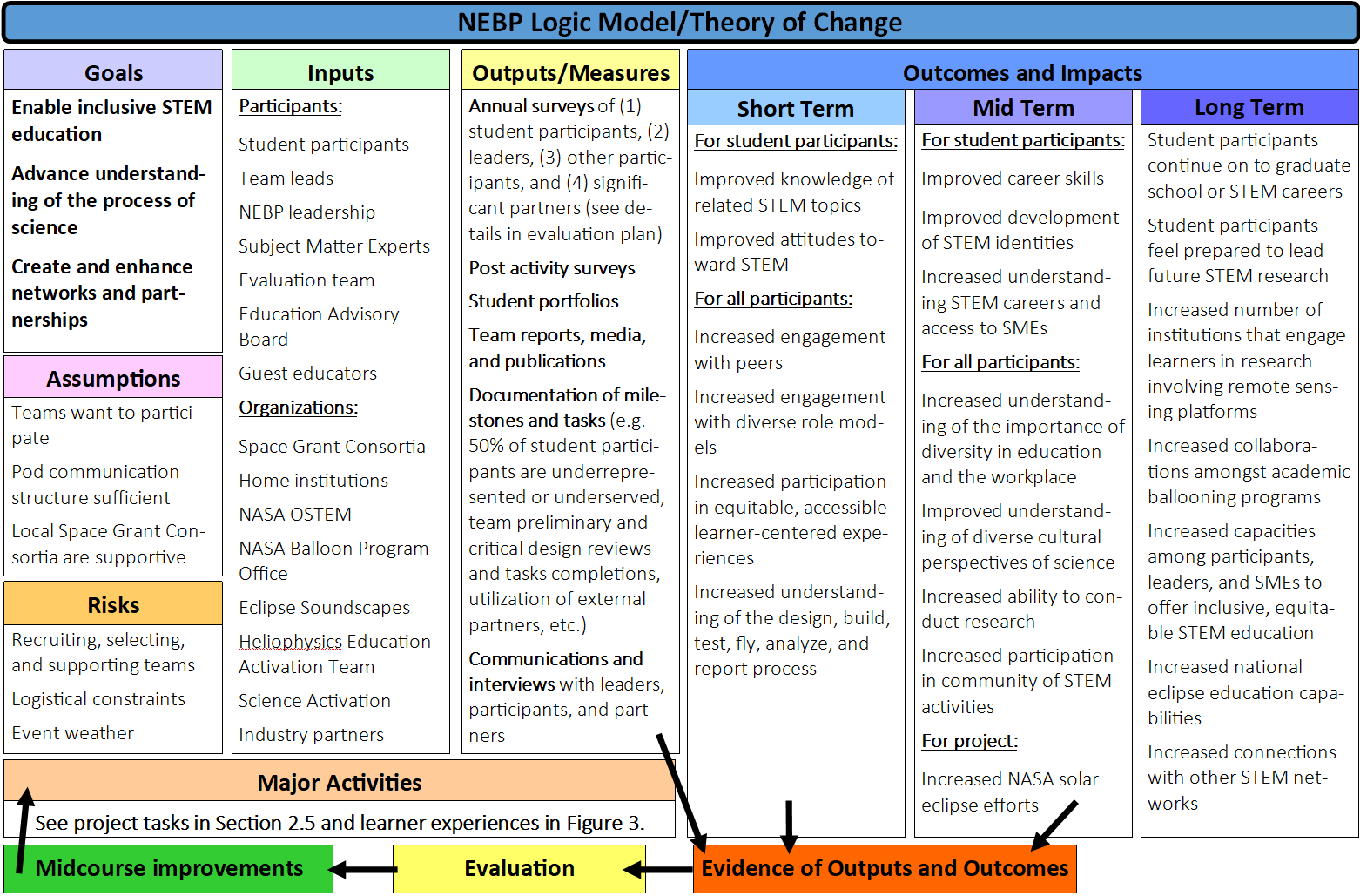 Website navigation
Use the menus to the left to find resources. Check back often as our pages are constantly updated. Use the links below to begin the course for your specific track. Enjoy!
Will you take a few minutes to give us some feedback on this lesson? Thank you!
Atmospheric Science Team // Engineering Team
Return to....
Atmospheric science course home page